San Francisco March (Part of National Action) – 20th Anniversary of the US invasion of Iraq
March 18 @ 12:00 pm

-

1:30 pm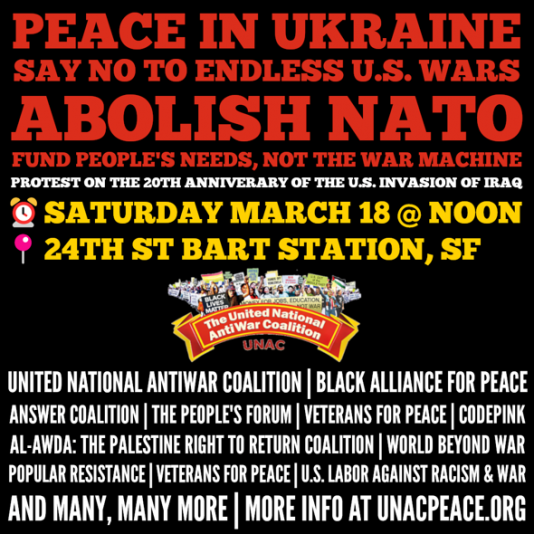 All Out Saturday, March 18,              12 Noon
24th and Mission, SF                  Stop Endless US Wars!
No War in Ukraine! No to NATO! No Weapons, No Money for the Ukraine War
Coinciding with the 20th anniversary weekend of the criminal U.S.-invasion of Iraq a major set of actions including a demonstration at the White House in Washington, D.C. on Saturday March 18 demanding "Peace in Ukraine – Say NO to Endless U.S. Wars" and "Fund People's Needs, Not the War Machine."
Peace in Ukraine – No weapons, no money for the Ukraine War
Abolish NATO – End U.S. militarism & sanctions!
Fund people's needs, not the war machine!
No war with China!
End U.S. aid to racist apartheid Israel!
Fight racism & bigotry at home, not other peoples!
U.S. hands off Haiti
End AFRICOM
Click here to help build this action
 Click here to endorse the action
This action is being called by UNAC, the ANSWER Coalition, Code Pink, Black Alliance for peace and many others listed below.  This is the first time in many years that then entire U.S, antiwar movement has been able to get together and build a national action.  This is a very important step forward for our movement.
Endorsers:
United National Anti-War Coalition, ANSWER Coalition, Black Alliance for Peace, The People's Forum, CodePink, World BEYOND War, Popular Resistance, Veterans for Peace, International Action Center, Party for Socialism and Liberation, Al-Awda, The Palestine Right to Return Coalition, Labor Against Racism and War, Leonard Peltier Defense Committee, Universal African Peoples Organization, East Bay Democratic Socialists of America, Socialist Action, Nevada Green Party, Samidoun Palestinian Prisoner Solidarity Network, Ohio Peace Council, Green Party of Connecticut, Berkeley Fellowship of Unitarian Universalists Social Justice Committee, Environmentalists Against War, Pacific Green Party (OR), Linn-Benton Chapter, Lauren Faith Smith Ministry for Nonviolence, Maine Cumberland County Greens, Genesee Valley Citizens for Peace, San Jose Peace and Justice Center, Servicio Particular Alacran, Minnesota Peace Action Coalition, PeaceWorks of Greater Brunswick, UPWARD (Uniting Peace With Actions Respect and Dignity), Socialist Party of America, North Country Peace Group, Workers World Party, Roger Waters, PeaceWorks, Bronx Antiwar Coalition, Global Network Against Weapons & Nuclear Power in Space, Chicago Anti-War Coalition, National Immigrant Solidarity Network, China-US Solidarity Network, North American Climate Conservation and Environmental group, Stop the War Machine – New Mexico…
End the siege on Syria!
U.S. troops out of Iraq, Syria and the Middle East!
Coinciding with the 20th anniversary weekend of the criminal U.S.-invasion of Iraq, we mobilize to demand:
Abolish NATO • End U.S. militarism and sanctions • Fund peoples needs, not the war machine • No war with China • End U.S. aid to racist apartheid Israel • Fight racism, anti- LGBTQI attacks and discrimination, racist deportations, and bigotry at home • U.S. hands off Haiti • End AFRICOM • No to Syria sanctions • No to nuclear war • No to climate catastrophe • Free Mumia! • Free Julian • Free Leonard
Today, the U.S. war machine includes 1,100 U.S. military bases in 110 countries. Its annual military budget of $1.2 trillion exceeds most of the world combined. Its 18 "national security" agencies employ six million people with "security clearance" status to "defend" the interests of the "1 percent." Defending these "interests" knows no limits, as Pulitzer Prize journalist Seymour Hersh revealed in his recent exposé of the U.S. multi-trillion gambit in obliterating the Nord Stream pipelines aimed at increasing the superprofits of the U.S. fossil fuel monopolies.
Join us! Endorse!  In the SF Bay Area contact: jmackler@lmi.net or bayarea@workers.org.
In Washington, D.C. Contact: UNACpeace@gmail.com